News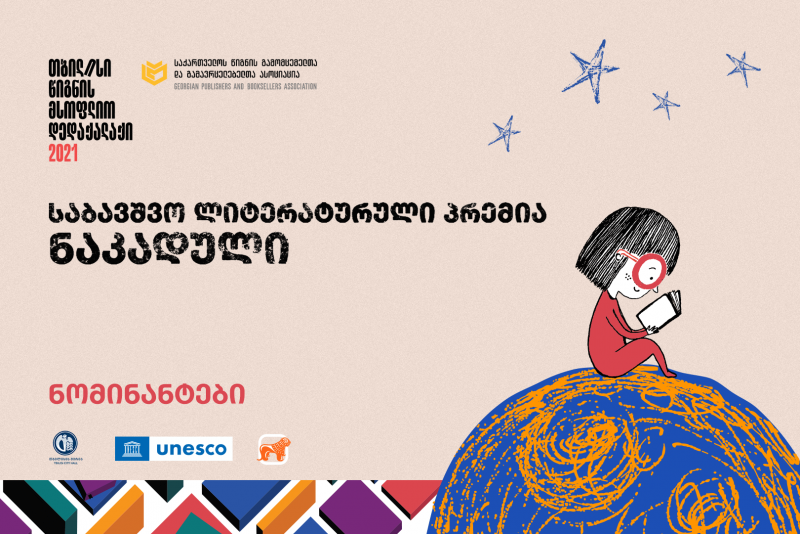 Children's Literary Award "Nakaduli" Shortlist has been announced

The titles shortlisted on the Children's Literary Award "Nakaduli" are now revealed. 13 out of 42 longlisted books are nominated in four categories.
Best Prose Book
Free! - Irma Malatsidze, Publishing House Palitra L.
Tales turned into fairy tales - Givi Chighvinadze, Publishing House Meridiani
Atusa and Matusa - Lela Tsutskiridze, Sulakauri Publishing
Tantala King Home Games - Alex Chighvinadze, Ana Janelidze, Zoliani Kata Publishing
Best Poetry Book
Guess the little ones - Natia Janashia, Publishing house Palitra L
Book Cards - Transport - Vaso Guleuri, Publishing House Shemetsneba
The best-illustrated book
Natsarkekia - Varlam Jmukhadze, Artanuji Publishing Hous
The Man and His Strange Piano - Tako Bakradze, Publishing House Intelekti
Tantala King Home Games - Ana Janelidze, Zoliani Kata Publishing
The Wolf in Myths and Fairy Tales - Giorgi Jincharadze, Zolini Kata Publishing
The best educational book
Unusual Sunday - Mariam Tsiklauri, Bakmi Publishing
Lotto: Leap and Word - Nino Gordeladze, Tuta Narmania, Sulakauri Publishing
Georgian alphabet (book + puzzle) - Ana Turmanidze, Megi Kveitaia, Sulakauri Publishing
The Award was founded by Georgian Publishers and Booksellers Association, within the framework of Tbilisi - World Book Capital and the financial support of Tbilisi City Hall.

The award aims to promote the development of Georgian children's literature and increase public interest. Also, encourage authors to work on children's books and boost their creativity.

The winners of the nominations will be revealed in December by a five-member jury selected under the project. The winners will be awarded a prize of 2500 GEL.