News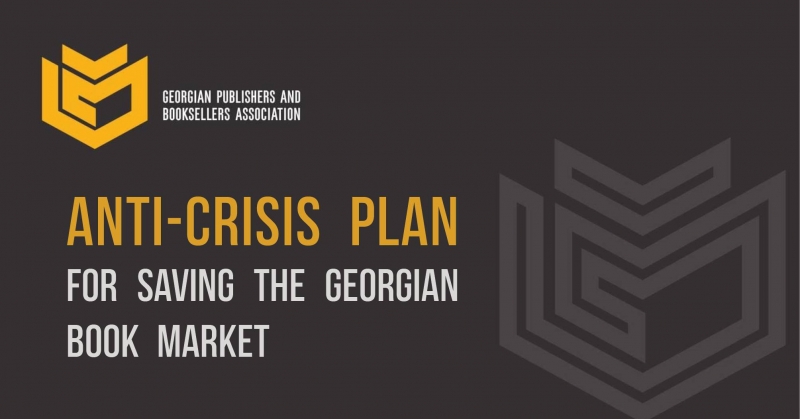 Anti-crisis plan for saving the Georgian book market - Statement to Georgian Government

To Georgia's Government
Interagency Coordination Council,
Minister of Education, Science, Culture and Sports of Georgia,
Mr. Mikheil Chkhenkeli
and Director of Writers' House of Georgia
Mrs. Natalia Lomouri
As you are aware, the Georgian publishing industry consists mainly of small and medium-sized businesses, which can be extremely vulnerable and even small deterioration in operating environment could have devastating consequences on their day-to-day operations.
Immediately after state of emergency was declared, all the bookstores in Georgia were closed, and publishers were effectively denied the right to operate. In the beginning of April, online sales were banned as well, thus depriving the publishers of the only source of income they had left.
Although online trading has officially resumed in Georgia on April 26, majority of publishers have not received permission to operate as the Ministry of Economy has not verified yet whether they meet the required safety standards or not. Consequently, publishers are still deprived of even the smallest source of income, the renewal of publishing activities is planned only in the third stage of the government's anti-crisis plan, therefore, new books will not be published for more than a month.
That being said, the Association has calculated the approximate financial loss that Georgian book sector has suffered during past month and a half, and we would like to emphasize that the total amount has reached very dangerous amounts for our small sector and comprise GEL 6 million (1,875 million USD). We would like to also note that by the end of May, above mentioned loss will almost be doubled in size and reach approximately GEL 12 million (3,750 million USD).
This severe situation could be devastating for the Georgian publishing industry if appropriate measures are not taken and financial support is not provided by the government.
In order to save the Georgian book market, we are offerring an anti-crisis plan developed by the Georgian Publishers and Booksellers Association. During the preparation of the plan, we used examples of nearly thirty countries, who already had precedents of state-funded financial assistance to the local publishing sector and what were the needs and demands of the publishers presented to the government.
In order to develop an anti-crisis plan to save the Georgian book industry, we used both international experience and detailed research of local publishers' current situation and needs to be as relevant and realistic as possible.
We hereby present 9-point anti-crisis plan that includes both financial support and specific project implementation, which is vital for the survival of the Georgian book industry today:
1. Complete exemption from corporate and personal income tax of publishers and book distributors during next 6 months.
Exemption to cover all full-time and part-time employees as well as rental income amounts.
2. Government assistance in order to obtain interest-free long-term loans for the representatives of the publishing sector
After the current crisis ends, most of the publishers in Georgia will require additional financing in order to continue their day-to-day activities. Thus, this petition will be crucial.
3. Reduction of interest rates on current loans and long-term grace periods.
In addition, it is vital to negotiate longer than usual grace periods and revise existing high-interest rate loans for organizations in the book sector with the help of government.
4. To award grants for small publishing houses within GEL 2,000-5,000 range.
Georgian Publishers and Booksellers Association is willing to work closely together with the Writers' House of
Georgia to develop and implement this project in case of mutual consent.
5. Book Fund Renewal Project for the Libraries – Increase state funding
This is a traditional project of the association and due to its content, we believe that the implementation of this project in the current situation is vital for the sector. The association is ready to carry out this project remotely during this summer. Therefore, we believe that it is necessary to increase the state funding of this project in order to provide tangible assistance to publishers, librarians and readers in the foreseeable future.
6. Increase state funding for Tbilisi International Book Fair in order to reduce the participation costs for the participants.
Tbilisi International Book Fair is one of the most important sources of income for publishers and booksellers.
Since we had to postpone the fair to the end of September, we believe that the financial situation of participants will be so severe that they will face serious difficulties even when paying their festival rental fees. That being said, it is desirable to increase funding for the Tbilisi International Book Fair, which will be fully used to partially cover participants' participation costs.
7. Re-announcement of the Translation Grant by the Writer's House of Georgia.
We call on the Writer's house of Georgia to award translation grant which is their traditional annual project once again this year, in order to promote translation of foreign literature.
8. Supporting Georgian authors and providing education to specific focus groups
Obtaining state support for both publishers and contemporary Georgian authors is considered as an absolute necessity by the Association. Buying latest issues of local authors directly by state agencies is one of many possible scenarios.
The acquired books will be distributed to IDP settlements, women's and juvenile colonies, ethnic minority regions, refugee shelters for victims of violence, regional schools, and more.
Support for School Textbook Publishers
In Georgia, school textbooks for I-XII grades are printed exclusively by one printing union. Local publishers demand the right to print their own textbooks. This will set a precedent when copyright holders are able to print their own books, which is very important. Also, this action will result in distribution of state funds to many small publishing houses, which are now directed to only one organization holding above mentioned rights. This will be serious relief for them, which will eventually help save the industry and its workers.
Gvantsa Jobava
Chairperson of Georgian Publishers and Booksellers Association
Subscribe to newsletter
What language do you prefer for newsletter?