Current Projects

Georgia - the guest of honour Frankfurter Buchmesse 2018

Frankfurter Buchmesse 2018 Guest of Honour Georgia publishing program
Guest of Honour Georgia Publishing Program at Frankfurter Buchmesse 2018 is organized by the professional team of Georgian Publishers and Booksellers Association (GPBA).
Publishing program covers 3 National stands and a small stage in the Guest of Honour Pavilion.
Georgian National Stand (180 sq. m) – located in Hall 5.0 (B100). The status of the Georgian national stand, annually organized at the Buchmesse since 2007, takes a very significant scale in the context of the Guest of Honour project and is the main platform for Georgian publishing professionals. The stand will exhibit books of approximately 40 Georgian publishers and will offer them space for business meetings. During 3 working days there will be business-breakfasts and business-lunches held at the stand. Stage of the national stand - main platform for GOH publishing program will present series of events with participation of Georgian and international publishers, authors, translators and literary professionals.
Georgian Stand in ARTS+ (28 sq. m) – located in Hall 4.1 (Q67). The stand reveals Georgia's potential in art and innovative technologies. Georgian stand is presented with three art spaces. Stand is divided into three spaces. In the exhibition space you will find Georgian Books about art and design, photobooks, art-books etc.
Another space showcases an innovative art-project Oraculum 0.1 (The Talking Avatars) as a permanent installation in ARTS+. Project authors and presenters are Zura Jishkariani and Sandro Asatiani. Three Avatars, products of AI are presented on three screens. They have individually designed appearance and character, age/sex recognition and speech abilities - they talk in the language of literature. Avatars are interactions of emotions and algorithms.
Third space is the joint stand with Monotype GmbH. At this interactive stand visitors will be able to get in touch with Georgian alphabet, typefaces designed by Monotype. This collaboration puts an emphasis on unique visual trademark of Georgian culture – typography. There will be activities at the stand: Georgian calligraphist will present Georgian script to the visitors, will help them write in Georgian and will create souvenir cards with them; a special printer will allow to create instant postcards with Georgian type for the visitors.
Another permanent installation/showcase of chatbots in ARTS+ pavilion will be presented by the authors or The Talking Avatars project. Using screen and keyboards, they will let the visitors interact with different chatbots of their creation and will also show them the process of designing one.
Georgian Children's literature Stand (24 sq. m) – located in Hall 3.0 (F152).
Children's Stand is the area dedicated to children's literature. The stand will exhibit children's books by Georgian publishers and selected illustrations of Georgian artists. There will also be digital games and applications accessible for children visiting the stage.
Up to 50 selected Georgian children's books will be exhibited in a special space at the book fair - Frankfurt Kids Foyer (U56 A1). Additionally, the LED screen installed in the foyer will display children's book illustrations and among them the images created by Georgian artists.
Nonetheless significant part of the publishing program – 16 events presenting Georgian poetry and non-fiction and art books will be held at the Small Stage of the Guest of Honour Pavilion. Visitor will have a chance to meet authors and creators and get their unique insight on the presented projects and take a sneak peak into Georgian culture and reality.
As a part of the publishing program Georgian classic and contemporary children's books will be presented at the Kids Stage at Frankfurter Buchmesse. Authors themselves, publishers and insightful moderators will be telling about the books, illustrations and generally – children's literature in Georgia.
You are gladly invited to visit our stands, attend the events and discover #Georgiamadebycharacters.
Guest of Honour Georgia Publishing Program at Frankfurter Buchmesse 2018 is organized by the team of Georgian Publishers and Booksellers Association: http://gpba.ge/members/26/
PHOTO GALLERY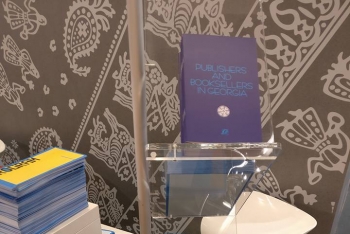 Frankfurt Book Fair 2016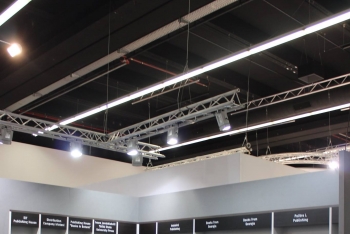 Frankfurt Book Fair 2015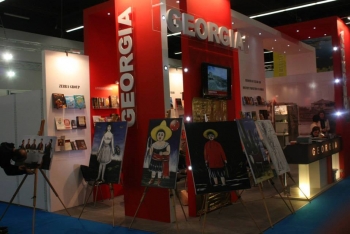 Pirosmani in Frankfurt- Presentation of Non-fiction Literature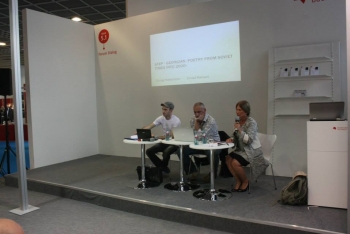 Georgian Poetry at Frankfurt Book Fair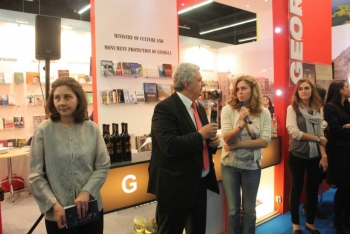 Official Reception in Frankfurt at Georgian Stand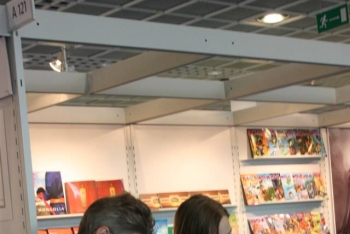 Georgian Polyphonic Prose Presentation in Frankfurt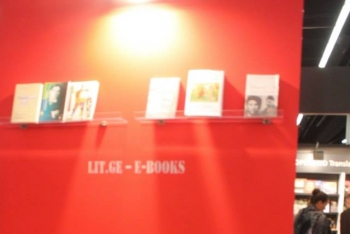 Georgian Delegation at Frankfurt Book Fair 2013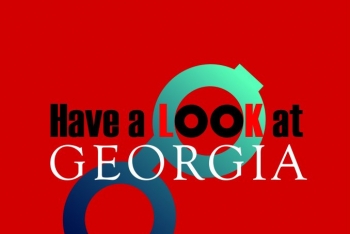 Frankfurt Book Fair 2011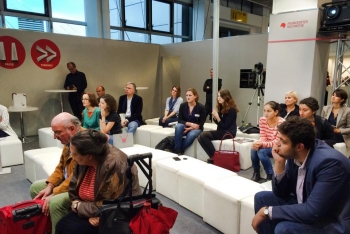 Frankfurt Book Fair 2014
Related News