Current Projects
National Stand of Georgia at London Book Fair

The London Book Fair 2017 opened on March 14th and ended on March 16th at the exhibition center "Olympia".
This year, the London Book Fair is celebrating its 46-year anniversary that's why it has hosted 25 000 publishing professionals from 124 countries. The Georgian national stand was organized by Georgian Publishers and Booksellers Association in partnership and cooperation with the Georgian National Book Center. Multiple Georgian publishers were participated in the fair. Georgian contemporary and classical literary works from different periods as well as Georgian authors' foreign translations were presented at the stand.
The participation and organizing the national stand at the London Book Fair aims to promote and increase awareness of Georgian book and authors worldwide; also, to conduct business meetings with publishers and associations of the participant countries, governmental institutions, partnership with whom will serve for the appropriate performance of Georgia as a Guest of Honour country at the Frankfurt Book Fair 2018.
In 1971, the London Book Fair took place for the first time, as for the current name, it was given in 1977. The London Book Fair has its individual slot among other international book fairs – copyright issues is its central theme and subject of interest. The London Book Fair platform is mainly targeting the publishing professionals - supports the international business networking and partnership, serves for the global popularization of authors and their books.
PHOTO GALLERY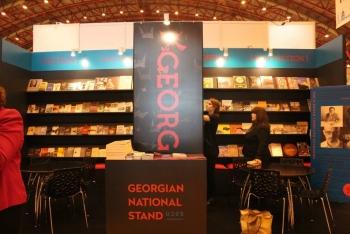 Georgian National stand at the London Book Festival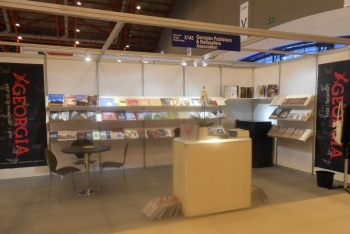 London Book Festival 2013